Lifeforce Nutraceuticals
BECOME THE CEO OF YOUR OWN HEALTH, HAPPINESS AND VITALITY
PEAK HEALTHSPAN™
AGING + METABOLISM
Increase the expression of healthy aging and longevity genes while making your body more resilient to changes in your metabolism and environmental stressors
AGING + METABOLISM
Increase the expression of healthy aging and longevity genes while making your body more resilient to changes in your metabolism and environmental stressors
Shop Now
PEAK RISE™
ENERGY + FOCUS
Enhance how efficiently neurotransmitters signal to key neurons in your brain, boosting your mood, memory, drive, and mental stamina
ENERGY + FOCUS
Enhance how efficiently neurotransmitters signal to key neurons in your brain, boosting your mood, memory, drive, and mental stamina
Shop Now
"What I'm aiming for – and what I wish for you – isn't just quantity of life, but quality of life. I want more than a long lifespan; I want a long healthspan as well"
- Tony Robbins | Shop LIFEFORCE Healthspan Now
PEAK REST™
SLEEP + RECOVERY
Works at the deepest levels of brain recovery and whole-body relaxation, so you wake up feeling energized, alert, and ready to take on the day at your peak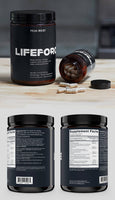 Learn More

SLEEP + RECOVERY
Works at the deepest levels of brain recovery and whole-body relaxation, so you wake up feeling energized, alert, and ready to take on the day at your peak
Shop Now
Methylation
DETOXIFICATION
Enhance blood vessel lining, brain tissue structure, and blood flow to support heart and brain health
DETOXIFICATION
Enhance blood vessel lining, brain tissue structure, and blood flow to support heart and brain health
Shop Now
DHEA
HORMONE HEALTH
Maintain the optimal hormone levels your body needs to function at your peak
HORMONE HEALTH
Maintain the optimal hormone levels your body needs to function at your peak
Shop Now
MAGNESIUM
BRAIN + MUSCLE
Activates more than 300 enzymatic processes in the body, supporting whole body health, including heart, muscle, brain, and bone function
BRAIN + MUSCLE
Activates more than 300 enzymatic processes in the body, supporting whole body health, including heart, muscle, brain, and bone function
Shop Now
VITAMIN D + K
BONE + IMMUNE + MUSCLE
Bolster bone health, immune, and neurological function
BONE + IMMUNE + MUSCLE
Bolster bone health, immune, and neurological function
Shop Now
OMEGA
CARDIAC + IMMUNE
Support heart health, immune function, and inflammatory response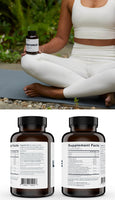 Learn More

CARDIAC + IMMUNE
Support heart health, immune function, and inflammatory response
Shop Now
PEAK DEFENSE™
IMMUNE SYSTEM
Prepare for, defend against, and recover from environmental, seasonal, and year-round immunity stressors faster and stronger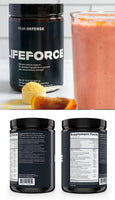 Learn More

IMMUNE SYSTEM
Prepare for, defend against, and recover from environmental, seasonal, and year-round immunity stressors faster and stronger
Shop Now
What if you had the power to become the CEO of your own health, happiness and vitality? Transform the quality of your life and wake up each day feeling mentally and physically vibrant with proven, expert designed Lifeforce Nutraceuticals used by Tony himself.
Your health and vitality don't have to hold you back from living an extraordinary life – whether you're looking to maximize peak performance, energy and strength, or looking for support to help you build muscle, support your immune system or gain mental clarity – you'll find it here.
Author of the #1 New York Times bestseller Life Force: How New Breakthroughs in Precision Medicine Can Transform the Quality of Your Life & Those You Love, Tony founded Lifeforce Nutraceuticals after years of research and collaboration with world-renown scientists, physicians and researchers creating breakthroughs in precision medicine to transform the quality of your life.
Known for his high energy and vibrant intensity at his seminars and events, Tony has spent over forty years biohacking his own health in order to meet the high energetic demands he places on his body and mind. And it's why he's constantly in search of the most leading-edge tools to strengthen and enhance energy, vitality and endurance.
With Lifeforce Nutraceuticals, Tony continues to fulfill his commitment to sharing the core principles that create health and vitality – because when you feel better and have more energy, your whole life improves. He founded Lifeforce Nutraceuticals so everyone can access the innovative science that supports you in feeling, looking and performing at your best.
Designed for people like you that won't compromise on quality when it comes to creating peak performance and living optimally, we couldn't say it better than Tony himself: "What better gift could you give yourself than the ability to optimize your vitality and strength to last and even increase with age?" With a clear mind and a physical sense of vitality, there's truly nothing you can't accomplish.