PEAK HEALTHSPAN™
PEAK HEALTHSPAN™
Invest in your health now and for the decades ahead. Featuring NAD3®, a proprietary, cutting-edge compound that targets all nine major hallmarks of aging, Peak Healthspan™ helps optimize your body today and well into the future. Its key ingredients increase the expression of healthy aging and longevity genes while making your body more resilient to changes in your metabolism and environmental stressors. It also optimizes how your body utilizes omega-3s to lift your mood and support your heart, cognition, and joint strength.
Invest in your health now and for the decades ahead. Featuring NAD3®, a proprietary, cutting-edge compound...
Read More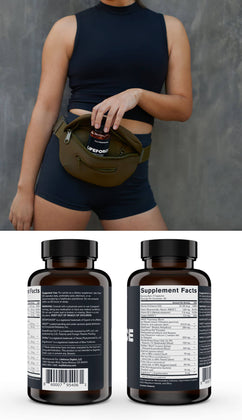 DETAILS
What if you had the power to become the CEO of your own health, happiness and vitality? Transform the quality of your life and wake up each day feeling mentally and physically vibrant with proven, expert designed Lifeforce Nutraceuticals used by Tony himself.

Your health and vitality don't have to hold you back from living an extraordinary life – whether you're looking to maximize peak performance, energy and strength, or looking for support to help you build muscle, support your immune system or gain mental clarity – you'll find it here.
DESCRIPTION
TARGETED BIOMARKERS
Designed To Support These Biomarkers
High-Sensitivity C-Reactive Protein (Hs-CRP): Inflammation markers, such as high-sensitivity c-reactive protein (hs-CRP), are like a crystal ball for your body. Not only does hs-CRP give us insights into how your body is handling stress, reacting to your diet, and recovering from workouts, it also helps us predict your future risk of cardiovascular disease.
ALT: An enzyme found primarily in the liver. High ALT levels may indicated liver damage, an infection or short-term illness
AST: An enzyme released by the liver when it is injured or inflamed. Along with ALT, a key indicator of liver health.
Comprehensive Metabolic Panel (CMP): Measures 14 substances in your blood including sodium, calcium, creatinine, potassium. It provides important information about your body's overall chemical balance and metabolism.
Glucose (Fasting): The fasting glucose test gives us a snapshot in time of the sugar level in your blood, one of the markers for diabetes, metabolic imbalance and insulin resistance. Eating less sugar and incorporating high-intensity interval training (HIIT) can reverse insulin resistance, even in older adults.
Hemoglobin A1c (HbA1c): The glycosylated hemoglobin (A1c) test gives us a look at your sugar levels over a 90-day period to help spot pre-diabetes. A range of 5.7 to 6.4% indicates an increased risk, and 6.5% or over may indicate diabetes.
Insulin-Like Growth Factor (IGF-1): Insulin-like Growth Factor (IGF-1) is a hormone made by the liver that tells your bones and muscles to grow.
Apolipoprotein B (ApoB): Apolipoprotein B (ApoB) is a risk stratification marker used in conjunction with all of the other cholesterol readings. ApoB are proteins found in all of the "bad" versions of cholesterol that contribute to cardiovascular disease.
High-Density Lipoprotein (HDL): High-density lipoprotein (HDL) is known as good cholesterol because it helps lower your risk for heart disease and ischemic stroke. Regular exercise and a healthy diet — the same lifestyle choices that keep your cholesterol in check — naturally increase your HDL. Levels between 55–65 mg/dL are healthy and have antioxidant and anti-inflammatory effects.
Low-Density Lipoprotein (LDL): LDL is known as bad cholesterol because too much of it can clog and harden the arteries, which leads to high blood pressure and heart disease. Less than 100mg/dL is an optimal level for most people, though depending on your personal health history, slightly higher or lower levels may be right for you.
HOW TO USE
How To Use
Get The Most From Your Peak Healthspan™
Take 1-3 capsules daily on an empty stomach before lunch. Start with 1 capsule daily and increase by 1 tablet every 2-3 days, as tolerated, to reach the recommended dose of 3 capsules/day. Avoid taking within 6 hours of bedtime.
If at any time you experience mild to moderate side effects (most common are nausea, mild headache, jitteriness or disturbance in sleep/wake cycle), consider decreasing back down to the dose that you tolerated and remaining on that for 7 days before trying to increase again. Some people don't need as high of a dose but still get all of the benefits, so listen to your body and use the dose that feels right for you.
KEY INGREDIENTS
Key Ingredients
Peak Healthspan™ Ingredients

Vitamin D3: 1250 IU/31.25 mcg 156% DV
Niacin (as Niacinamide, Niacin, NAD3®): 130 mg 813% DV
Copper (as NAD3®): 0.2 mg 22% DV
NAD3® (as matrix of Wasabia japonica (root), Theacrine, Copper(I) Niacin): 312.5 mg
BetaPower® Betaine Anhydrous: 260 mg
SmartPrime-Om™ Complex (as MSM and Sesamum indicum (seed) extract std. for Sesamin): 250 mg
Rhodiola rosea (root) extract std. (3% Rosavins and 1% Salidrosides): 150 mg
SirtMax® (Kaempferia parviflora (root) extract std. for Polymethoxyflavonoids): 100 mg
Luteolin (Sophoria japonica (bud) extract): 70 mg
Fisetin (Rhus succedanea L. (stem) extract): 60 mg
Apigenin (Apium graveolens (seed) extract): 50 mg
PQQ: 10 mg
ErgoActive® L-Ergothioneine: 5 mg




Go Deeper Into The Science Behind Peak Healthspan™
BENEFITS BREAKDOWN
Benefits Breakdown
BENEFIT #1

HOLISTIC HEALTHY AGINGHOLISTIC HEALTHY AGING

Addresses all nine hallmarks of aging and promotes new mitochondria in cells

BENEFIT #2

CELLULAR REPAIR

Increases cellular NAD+ levels, and stabilizes telomere length, a key marker for longevity

BENEFIT #3

ORGAN HEALTH

Includes SmartPrime-Om™ to help the body better utilize omega-3s for brain, heart, muscle, liver, and immune system support
REVIEWS
Become the CEO of your own health
Transform the quality of your life and wake up each day feeling mentally and physically vibrant with proven, expert designed Lifeforce Nutraceuticals used by Tony himself.
DISCOVER LIFEFORCE